ABOVE: The exterior is created with indigenous Florida Keystone and beautiful landscaping that surrounds the residence. A large window in front with red bars, designed by architect William Miller, captures stunning views of the garden.
This New Smyrna Beach Home With Stunning Architecture Is A Showcase For Contemporary Design And The Owners' Eclectic Artwork Collection
A UNIQUE COLLABORATION between designer Rob Turner, Phil Kean Design Group, architect Will Miller and the homeowners, this striking 4,300-square-foot New Smyrna Beach, Fla., home conveys a contemporary and casual feel with an open flfl oor plan and lush garden views. "From my initial meetings with the owners, I realized the desire and the need to provide for very free and almost whimsical use of color and shapes, and the potential for their personal artistic objects to give a 'poetic depth' to the home," Miller says. To maintain a harmonizing order in the house, the architect designed it with a unifying theme of materials and neutrals. "I encouraged Rob to be very deliberate and free with the use of color and shapes when creating his playful interiors," he says.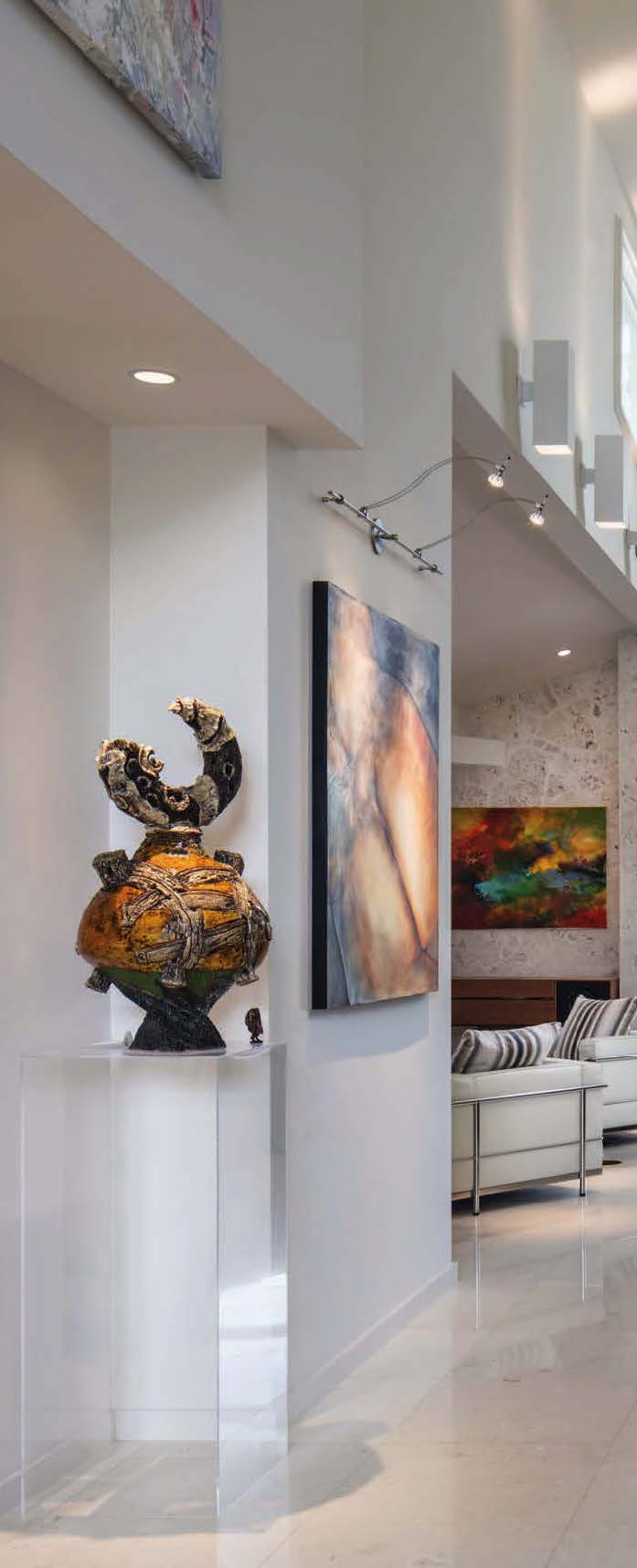 The free-floating chandelier from Tech Lighting suspends above the stairway where Chicken Breast, a bird sculpture by Copper Tristscheller, is perched. A wooden wheel from the island of Java adds organic interest on a platform at the top of the stairs.
DESIGN Robert Turner in collaboration with Phil Kean Design Group, Winter Park, FL ARCHITECTURE Will Miller, Will Miller Architect, New Smyrna Beach, FL BUILDER Jay Schrader, New Smyrna Beach Construction, New Smyrna Beach, FL LANDSCAPE ARCHITECTURE Glenn Herbert, Landscape Resource Management Group, New Smyrna Beach, FL PHOTOGRAPHY Uneek Image, Orlando, FL